ChemCollective Resources
The ChemCollective is a collection of virtual labs, scenario-based learning activities, tutorials, and concept tests. Teachers can use our content for pre-labs, for alternatives to textbook homework, and for in-class activities for individuals or teams. Students can review and learn chemistry concepts using our virtual labs, simulations, and tutorials. The ChemCollective is organized by a group of faculty and staff at Carnegie Mellon who are interested in using, assessing, and creating engaging online activities for chemistry education.
Chemistry resources for high schools impacted by COVID-19
The following free resources may be especially useful for online teaching of high school chemistry courses.
Open Learning Initative (OLI) General Chemistry I and II are complete online courseware for AP and college level chemistry. Each module includes short amounts of text, interactive worked examples, scaffolded practice problems, and assessments. The integration of these components provides a seamless and interactive learning experience for your students. The courseware also provides instructors with data on student performance, which they can use to adapt their instruction to student needs.
NGSS Chemistry Modules These online materials for a first course in chemistry aim to teach and reinforce chemistry concepts in the context of real-world scenarios, while incorporating virtual lab activities and strengthening student application of NGSS practices.
ChemCollective virtual labs The virtual labs hosted here allow students to design and carry out their own experiments. You can provide experimental procedures to your students or allow them to invent their own. The autograded labs create unknowns and provide feedback on students answers. Please contact for information on how to best use these with your students.
You can get immediate access to the open-and-free versions of
General Chemistry I
and
General Chemistry II
. To access the NGSS materials, please follow the instructions on
chemvlab.orb
. (At present, you need to sign up for an account and wait for approval, but we are working on ways to allow immediate access for evaluation. A single free account gets you free access to the NGSS materials along with General Chemistry I and II.)
A recording from our webinar on March 16 is available here. A discussion of the virtual lab starts at about 29:00. The earlier portions give an overview of the OLI General Chemistry I and II courseware. We also created an editable google doc to provide additional information on virtual labs, and help instructors collaborate on use of these labs.
Featured Resource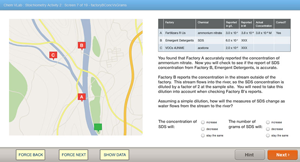 With support from the US Department of Education, the ChemCollective has teamed with WestEd to create a set of high school classroom activities in stoichiometry, thermochemistry, equilibrium and acid/base chemistry. The activities support your instruction by allowing students to practice and apply their knowledge to real world contexts, while receiving online tutoring and feedback.