Resources to Teach and Learn Chemistry
The ChemCollective is a collection of virtual labs, scenario-based learning activities, tutorials, and concept tests. Teachers can use our content for pre-labs, for alternatives to textbook homework, and for in-class activities for individuals or teams. Students can review and learn chemistry concepts using our virtual labs, simulations, and tutorials. The ChemCollective is organized by a group of faculty and staff at Carnegie Mellon who are interested in using, assessing, and creating engaging online activities for chemistry education.
Featured Resource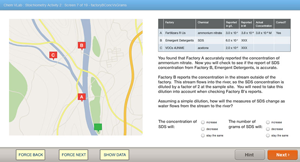 With support from the US Department of Education, the ChemCollective has teamed with WestEd to create a set of high school classroom activities in stoichiometry, thermochemistry, equilibrium and acid/base chemistry. The activities support your instruction by allowing students to practice and apply their knowledge to real world contexts, while receiving online tutoring and feedback.